One of my favorite recipes of my mom's is her homemade pizza. I don't know the origin of the recipe itself, but she's been making it for as long as I can remember. It's one of those comfort foods you eat – it's just so familiar, ya know? Anyway, for years I couldn't quite get my dough to turn out how hers did. She finally gave me a few insider tips and, dare I say, I think I have perfected my version of it! Mike loves this pizza too, so it's become a regular in the dinner rotation. It's easy, pretty quick, and always delicious!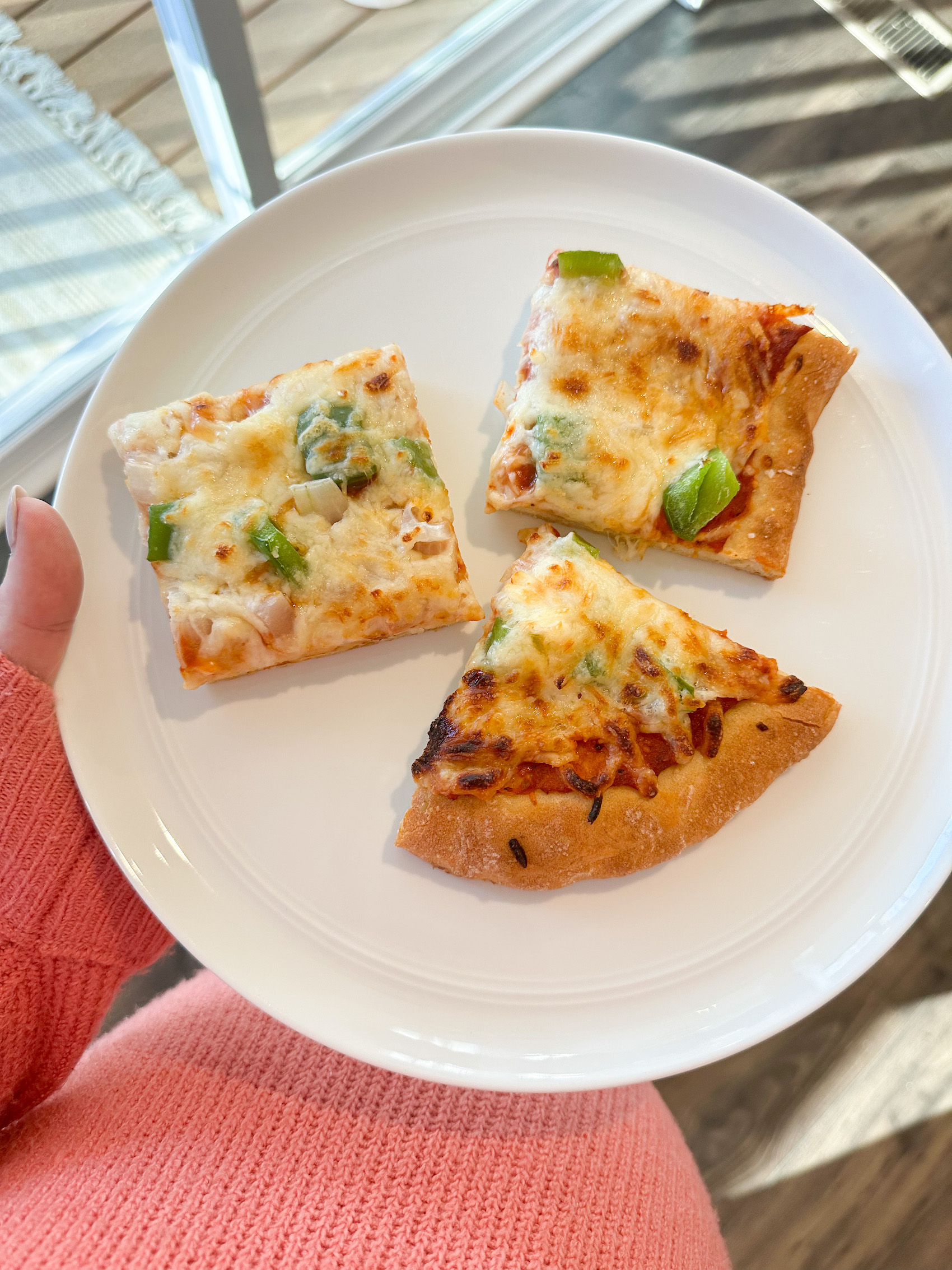 First, you'll make your dough and let it sit to rise for 45-60 minutes. After that time, you will start making the pizza.
Dough Ingredients
1 1/4 cup warm water (not hot, but nicely warm)
1 packet of active dry yeast (1 packet = 1/4 oz)
1 teaspoon white sugar
2 1/4 cups of AP flour
2 teaspoons minced garlic
Dough Directions
In a metal bowl, pour warm water and add yeast + sugar. Let set for 30 seconds, then stir to mix. Once combined, add your flour into the liquid mixture and stir until well combined. Add garlic and stir again. If dough seems a little wet, add a dusting more of flour. It's a pretty sticky dough, but shouldn't be overly wet. Cover the bowl with a towel and let sit to rise for 45-60 minutes on the counter.
When your rising time is almost up, go ahead and preheat your oven to 425º.
Pizza Ingredients
1/2-2/3 cup of pizza sauce (or to taste)
8-12 oz of shredded mozzarella cheese (or to taste)
Toppings of your choice (we do green pepper and onion, but do whatever you like!)
Crisco (or oil of your choice)
Pizza Directions
Grease a cookie sheet with crisco*. Using a wood pastry roller, roll the dough into a rectangular shape on the pan, not quite to the edges. You will need to flour the roller and or the dough since it is quite sticky. You want the dough to be about 1/2″ thick or so. Sprinkle rolled out dough with salt. Bake at 425º for 10 minutes on lower rack in the oven. After 10 minutes, remove the crust from the pan and bake another 5 minutes on lower rack. After the 5 minutes, remove the dough from the oven to assemble the pizza. Add your sauce, toppings, and cheese to taste. Return the pizza to the oven and bake on a higher rack until the cheese is melted + achieved desired doneness, about 15 minutes.
Remove from the oven and let sit for a minute before cutting. Enjoy!
*I've only ever made the dough this way, so I cannot guarantee results with a different type of pan or different type of oil/grease.