1. The Necessities
Tables & Chairs: You ideally enough for everyone to be able to sit while eating. These chairs are easy to store when not in use and Amazon has a lot of great options for folding tables as well.
A Speaker for Music: These from Amazon are affordable and can be paired together to expand the music coverage
Shade: It's a good idea to have somewhere people can sit/stand if they want to be out of the sun such as an umbrella, large tree, or covered porch. Alternatively you can make it known that guests are allowed to head inside to cool off by placing some of the appetizers and/or drinks inside.
Food Covers: At minimum, you want to be able to cover the appetizers that will be sitting out for a longer period of time to prevent bugs ending up in them (unless you plan on serving these indoors or a screened in porch).  You can get this set of 6 mesh one's for around $10 or just use serving dishes that come with covers.
Ice: Crucial for keeping drinks cool in the coolers. It's also a good idea to have a separate ice bucket by the cups for people who want ice in their drinks.
Coolers: You'll want at least one – but having a few (so you can separate the alcoholic and non-alcoholic drinks) is even better!
2. The Decor
Depending on the reason for the event you can get more specific with the decor, but here's a round up of some items from various categories to consider: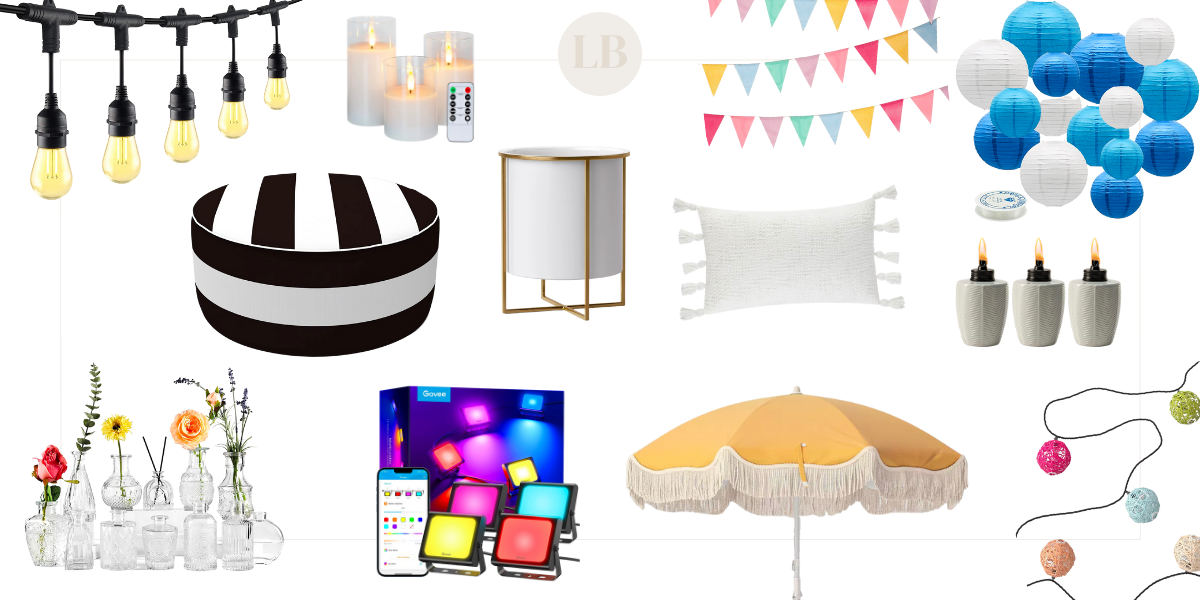 3. The Food
Food for barbecues can vary widely so it really comes down to personal preference! If it's a more casual event, you can also go the potluck route and have people bring apps, side dishes, or desserts to contribute. Ideally, you'll want to make sure you cover the following food categories:
Apps & Snacks: Things like chips & dip, charcuterie, veggie tray, caprese salad or skewers, etc.
Meat: You could do hotdogs, hamburgers, steaks, chicken, etc. or even a combination of a couple of these to give people options.
Sides: Some classics are pasta salad, potato salad, baked beans, grilled vegetable skewers, mac & cheese, corn on the cob, coleslaw, etc.
Dessert (if desired): Some ideas are cupcakes, pie, brownies, cookies, shortcake, etc.
Condiments: Ketchup, BBQ sauce, mayo, mustard, etc. Whatever might be needed for the sides & meats you plan on serving.
4. The Drinks
Non-Alcoholic Drinks: Some options are sodas, juices (especially if kids are attending), a pitcher of lemonade, sweet tea, etc.
Alcoholic Drinks: Easy to serve options like beer and wine or a pre-mixed cocktail are always good options. If you do decide to have liquor options be sure to have mixers to serve with those as well.
Water: Either an easy to access pitcher/drink dispenser or bottled water.
5. The Tabletop
Tablecloth & Placemats (if desired)
Dinnerware: Whatever needed to serve the food items you decide on. Target has some super affordable plastic plates, bowls, and cups available in a bunch of fun colors or you can go for something even easier and grab some disposable ones!
Utensils: Forks, spoons, knives, etc. Again, you can use some you have, buy some specifically for outdoors, or use disposable!
Serveware: Things like platters, trays, tongs, serving spoon, etc. but it will vary depending on what food you are serving.
Napkins
Here's a round up of some options to consider: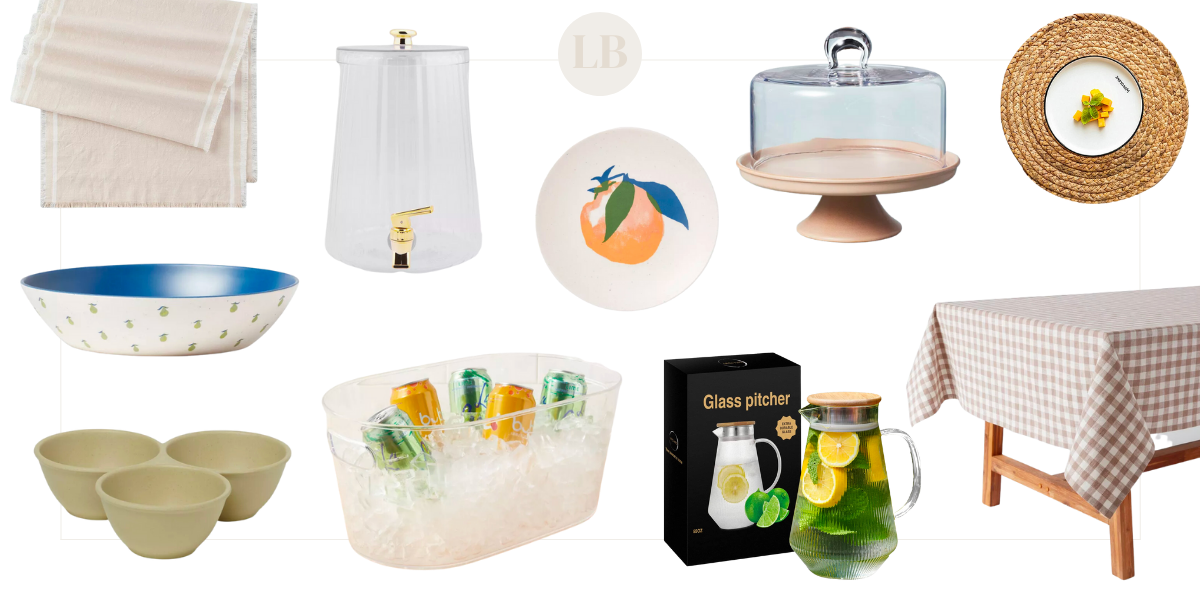 6. More Things To Consider
Backyard Games: Some fun one's are corn hole, yard pong, giant jenga, horseshoe, etc.
Bug Spray or Repellant for the Area: A can of bug spray is enough but if you want you can spray the area prior to the party with a bug repelling concentrate and add some bug repelling candles day of.
Sunscreen: This is a good thing to have handy just in case someone needs it!
The Weather: Make sure you have some sort of rain plan, like a tent, or are prepared for the party to move indoors in the event of bad weather.
Grilling Necessities (if grilling any food): Aside from a grill, make sure you have enough propane or charcoal to be able to cook.